Today I wanted to switch gears and share with you 5 beauty products that changed the way that I think about beauty.  Saying that they changed my life is maybe a little bit of an exaggeration however they definitely changed the way that I think and helped to evolve my beauty routine.  Without further ado here are the 5 beauty products that changed my life.
Blue Cross Cuticle Remover: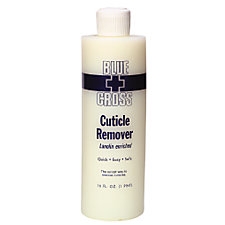 My cuticles are pretty difficult to deal with.  To be honest before I found this stuff I would just let them be and wonder why I had a hard time applying my nail polish.  It took a lot of research and constantly visiting blogs (Loodie Loodie Loodie is one of them) until I understood what a cuticle was and how I needed to get them out of my life.  Unlike cutting the cuticle a cuticle remover works better for the more basic/novice DIY manicurist.  Bonus: this stuff is super cheap and lasts a long time.
Bioderma:
I have already reviewed Bioderma on the blog before but I wanted to mention it again.  I really do love this stuff.  I have re-purchased this product 4 times and the last time I stocked up on 4 bottles.  It makes me feel so clean and refreshed and I'm not sure how I can go on without it.  I never liked the oily feeling makeup removers left behind.  This just takes off your makeup and makes your skin feel like you never had anything on.  It's also great for removing all kinds of mascara so it's great that you don't need a separate mascara remover for waterproof makeup should you choose to wear that on occasion.
Urban decay Primer Potion Original:
Boy is this stuff great.  My eyelids aren't really oily so I don't use it to prevent my eye shadow from creasing but I use it to make sure my eye shadow (or eye makeup in general) stays in place for the whole day.  I never go without this if I'm getting a serious (read: not work) eye look together.  On me it makes my looks last the whole day and it looks like I just applied the product.  This even held up in the Las Vegas heat which I was incredibly surprised by.  I started using it with the original potion looking bottle but I'm happy they moved to the current packaging.  Just makes it easier to use and apply with less cross-contamination.
MAC Stud:
This might be a little bit of a cheat because while I don't use this all the time after having MAC Stud applied to my eyebrows I never looked at my eyebrow routine the same again.  I have to admit that before I wouldn't really do anything.  I went into MAC one day looking for eyeshadow when I though I was going to need to apply my own makeup for my wedding and the MUA used a little bit on me.  After I looked at myself in the mirror I realized how much more polished I looked with defined eyebrows.  I have moved on from this pencil and I prefer more of a powder now (NARS Blondie) but after seeing what defining my brows could do for my face and my whole look I never ignore brow grooming again.
Seche Vite:
This product changed the way I think about nail polish.  Just how much has this changed the way I do my nails? I honestly don't think I would have a blog or discovered as much as I have about nail polish if this product did not make its way into my life.  I have always loved having my nails done.  As a girl with a long nail bed and very little nail growth I have also felt that a polished nail made my hands look that much more elegant and sophisticated.  But before I discovered this product it was a huge production for me to do my nails with other top coats.  It took up to 2 hours to make sure my nails were fully dried and I would ALWAYS wind up with sheet marks on my nails.  They also never dried as fast or as smooth as Seche Vite does.  And while I have since branched out and tried other quick dry top coats this product made me realize that I could have a beautiful new manicure in less than 30 minutes.  No excuses for a chipped manicure any longer.
And there you have it 5 beauty products that changed my life in some way.  What about you guys? Any makeup products that changed your life or the way you think about makeup/beauty?
Lauren